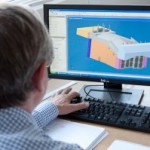 3D modelling in the CAD design industry has gone from strength to strength in recent years and now examples of 3D modelling software are evident across a number of industries. Here are just some of the sectors where the use of 3D modelling software has become commonplace:
Architecture – the days of hand-drawn blueprints and plans for a new building are now long gone. 3D modelling now adds depth and perspective to initial designs. The ability to give both birds-eye views and ground perspectives of buildings allows architects to showcase their work more effectively to clients than ever before.
Video Gaming – video gaming is huge at the moment and with the advent of wearable technology, the realism deployed in video gaming is staggering. None of this would be possible without 3D modelling. The scenes, props and characters are brought to life through 3D providing a visual reality that has made gaming hugely popular.
Film & TV – 3D modelling is used extensively across the entertainment industry. Whether for special effects, creating scenes and backgrounds or CGI, the use of 3D modelling has revolutionised the industry
Marketing – 3D modelling is used effectively in product development to fine tune the production process. It can be used to create prototypes as well as new packaging. The design can be refined before it goes to production and ultimately save time and money in the product development process.
Publishing – The use of 3D modelling in publishing is becoming more evident in the production of text books and illustrated publications. 3D modelling allows for the creation of fantasy images and depictions of the future.
Science – Whether it's recreating the flight of a bird, the effects of an earthquake or the geological formation of a volcano, 3D modelling is used extensively in science to illustrate the world around us.
These are just some of the industries that have been changed by 3D modelling. As the world of 3D modelling evolves and 3D printing becomes more prevalent it will be fascinating to see what lies in store for the future.